U.S. Stamps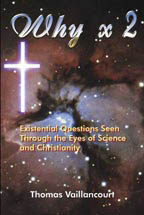 Over the centuries many Christian leaders have chosen to demonize science, while those in the scientific camp see Christianity as irrelevant or irrational. Both sides of this debate are short changing themselves. Why x 2 explains why.
Croton Stamp Company has been buying and selling U.S. stamps, Canada stamps, and Newfoundland stamps for over 35 years. It is that experience that has enabled us to see how stamps are directional arrows that point us to meaningful stories—stories about people and events in history that help us to define who we are and how we got there.
As an example, there are many stamps in the U.S. stamp inventory which contain the image of Franklin Delano Roosevelt, also affectionately known as FDR. He led the United States through and out of, not only the Great Depression, but also World War II. These stamps sparked my curiosity about FDR. Because of FDR's actions and his character, he has enabled and enriched millions of people's lives that came after him. He changed who we are as a country, and for many people, who we are as individuals.
A second and very distinct reason people enjoy collecting stamps is for their physical beauty—they are miniature works of art. This is especially true for stamps issued before 1940 that were created by engravers, especially Canadian postage stamps and Newfoundland postage stamps. Many people are fascinated by stamps for the same reasons they are fascinated by art. Art combines different elements such as lines, shapes, colors, and textures into some kind of meaningful configuration that we can relate to on an emotional level of some sort. Here are a few examples.

Another reason many people find stamp collecting so engaging is that it calls forth the detective in us. When the collector is going through a stash of new stamps (from wherever), the naturally occurring questions that come up are: where does this stamp come from? How old is it? What is its catalogue value? Is it a special variety that might make it valuable?
We encourage you to explore other pages on this site that relate to: US stamps, Canada stamps, or Newfoundland stamps. Also be sure to stop at our special page on "Altered stamps" and how to detect them.
At Croton Stamp Co. we are philatelic professionals, so we can make the following guarantee: any stamp we sell will be able to obtain a satisfactory certificate of genuineness from any of the philatelic certifying agencies, such as the Philatelic Foundation in New York, PSAG, or the P.S.E. in California. If, for any reason, one of our stamps does not receive a certificate of genuineness from a philatelic expertizer, a complete refund for the cost of the stamp will be made to the purchaser. If a certificate mentions any stamp fault not already noted in our description of the stamp, we will also provide a refund. This is a very important guarantee in purchasing stamps of value over the Internet. For expertization services we recommend Professional Stamp Experts (P.S.E.).
Many thanks,
Thomas Vaillancourt, President and Webmaster
Privacy Policy:
This policy covers how we use your personal information. We take your privacy seriously and will take all measures to protect your personal information.
Any personal information received will only be used to fill your order. We will not sell or redistribute your information to anyone.
Refund Policy:
If you are not 100% satisfied with your purchase, you can either return your order for a full refund or exchange it for something else. You can return or exchange your purchase for up to 21 days from the purchase date. Returned or exchanged products must be in the condition you received them and in the original packaging.
Contact Information:
Croton Stamp Company
PO Box 242, Goshen, New York 10924
845-294-7361
Email: croton@warwick.net
Office Hours: 9 am to 5 PM EST Mon-Sat.

Copyright © 1997